Water is our number one natural resource.
The Portland, Oregon metropolitan region is fortunate to have multiple sources of drinking water. Together we use millions of gallons of water each day to make that morning cup of coffee, water our gardens, and flush our toilets. Local businesses use water to create products that we enjoy here and send across the globe. In fact, everything in our lives depends on water: public health, fire protection, our economy, wildlife, and outdoor recreation. We all have a role to play in caring for this resource.
Drinking Water by the Numbers
A snapshot of what it takes to bring drinking water from its source to your home or business in the Portland, Oregon metropolitan region.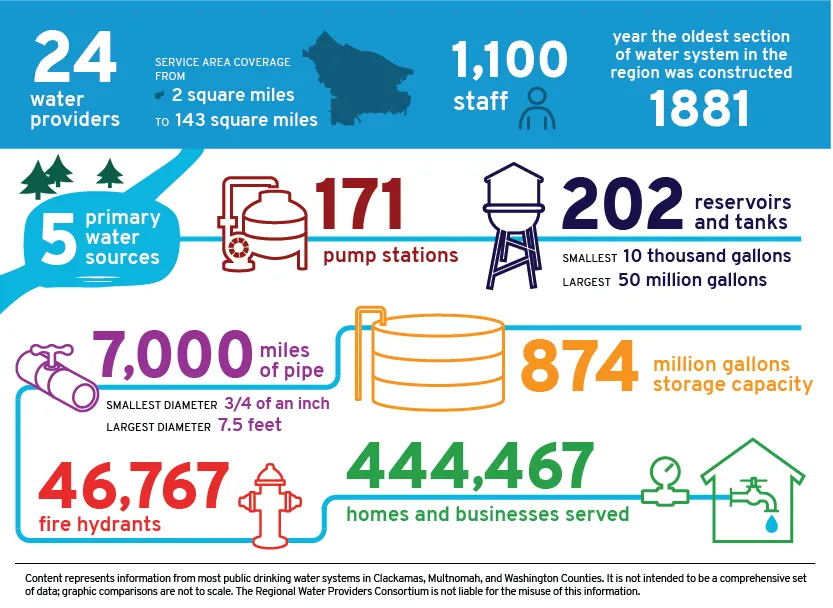 Here's what you can do:
Here's what water providers do:
Water providers work hard to ensure their customers have safe, reliable water 24 hours a day - every day. This requires constant care and management of a complex network of water treatment plants, pump stations, reservoirs, storage tanks, thousands of miles of pipes, and extensive planning to address issues of aging infrastructure, population growth, new and changing regulations, seismic hazards, and climate change.
The Regional Water Providers Consortium's work supports its water provider members to ensure that the region has a long-term, reliable, efficient, and safe water supply.