Job Highlight: Water Treatment Operators
A career in the drinking water field is rewarding, secure, well-paid, and a great way to contribute to your community. Right now, our region needs water treatment operators – the people who make the clean water we depend on every day. We have sources coming online and an upcoming wave of retirements that are creating a shortage of qualified operators.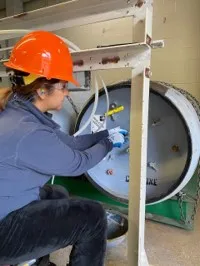 What is the salary?
The average pay for a Water Treatment Operator is about $60,000 - $95,000/year with full benefits and pension. Water needs to be treated at all times of day, so shift work, 4/10s, and other non-standard schedules are available. There are four classifications of Water Treatment Operators that have a range of training and responsibilities.
What do water treatment operators do?
You will be on the front lines of protecting public health! Essentially, you help maintain, repair, and operate equipment, machinery, data, and infrastructure that creates safe drinking water and delivers it to homes and businesses. Check out what water treatment operators do here.
Who would make a good water treatment operator?
Whether you're looking for your first job, transitioning out of military service, or searching for a meaningful career, working in water is a great option! Water treatment plant operators are technically-minded with good analytical, math, and mechanical skills in addition to being detail-oriented and comfortable doing many kinds of work. It is important to be a good communicator and be observant.
Daily tasks can include operating, inspecting, and repairing equipment, recording operational data, documenting test results for regulatory agencies, and many other tasks. You can begin with some college education or receive on-the-job training but will be expected to take specialized courses and earn an operator certification. It takes all kinds of people with unique skills, interests, and abilities to make water work.
Watch videos from the City of Hillsboro in English and Spanish to see an example of working as a water treatment operator.
How does drinking water get treated?
There are a lot of different ways to treat drinking water so it meets strict drinking water standards. Our region has many types of treatment facilities including filtration and ozone. Take a look inside the Lake Oswego/Tigard water treatment plant for one example of the treatment process:
Where would you work?
With five drinking water sources in the region, eight water treatment plants, and an upcoming wave of retirements there are many opportunities across the industry. 
These new and planned treatment plants are driving the need for more operators in the region:
There are four additional treatment plants on the Clackamas River and one in Forest Grove.
How to become a water treatment operator
Oregon has four levels of certified water operators that require increasing levels of education, experience, and testing. Some water providers will train on the job. A high school diploma or GED is required for all levels of treatment operators.
Operator Type
Experience
Education
Written Exam
Operator in Training
Three months (often on-the-job)
High school diploma / GED OR Associates Degree from an approved water and environmental technology program plus six months experience
Yes
Level 1
One year
Yes
Levels 2, 3, 4

Increased level of experience and education

Yes
Operator Certification Classifications
The Oregon Health Authority, the primary state agency for drinking water and distribution, put together a certification classification and qualifications document. This one-page list outlines the education and experience necessary for each type and level of water treatment operator. Education and certification needs vary based on which role you pursue as treatment systems differ among water providers.
Where can I get training, experience, and education?
Clackamas Community College: Water and Environmental Technology Certificate
Umpqua Community College: Water Quality Technician Certificate
Scholarships
Pacific Northwest Clean Water Association Scholarship Program
Pacific Northwest Section Scholarships
WEF Canham Graduate Scholarship
WEF Operator Scholarship
Career opportunities
Pacific Northwest Section American Water Work Association Careers
Work for Water - Jobs in Oregon
Government Jobs - Water Treatment