Portland metro area water providers have collaborated on water supply issues for the region since the early 1990s, and the Consortium has played an integral role in this effort since its inception in 1997. By working together, water providers are able to develop a strategy for meeting the region's water needs now and into the future.
Regional Water Supply Plan
The Consortium Board adopted an update of the Regional Water Supply Plan (RWSP) in October 2016. The update summarizes and identifies changes over the past 12 years to the major sections of the RWSP with the understanding that the original RWSP and 2004 update are still relevant. The Plan's implementation strategies and policy objectives remain unchanged.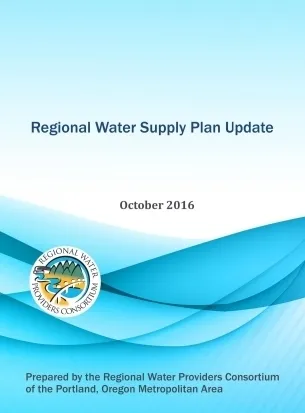 The 2004 RWSP update included a revised water demand forecast, update of source strategies, and the building of a new regional integration model.
The original RWSP was developed in 1996 by 27 of the region's municipal water providers and Metro over a three-year period. The RWSP provides a comprehensive, integrated framework of technical information, resource strategies, and implementation actions to meet the water supply needs of the greater Portland metropolitan area until 2050.
Regional Transmission and Storage Strategy
In July 2000, the Consortium adopted a Regional Transmission and Storage Strategy, which was intended to develop short- and long-term visions for regional transmission and storage, and to identify the institutional arrangements that can facilitate these visions. The Strategy uses the RWSP as its foundation and identifies ways that complement and integrate water supply improvements in the region.